Design Trend | Decorating with Chevron
If you're looking to decorate with a pattern that demands attention, the bold zig-zag of the chevron pattern is a great choice. This pattern is extremely popular right now, because it is both eye-catching and extremely versatile. Whether you're decorating a bedroom, living room, or child's room, there's a way to use chevron.
These black and white chevron drapes stand out against the bright tangerine striped wall in this room. The combination of chevron and stripes is a bold choice, and is very visually appealing.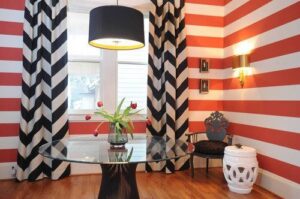 (Source: Houzz)
You can soften the look of the chevron pattern by using pastel colors and thinner lines. We love the use of pink and grey chevron in this nursery, especially paired with polka dots.  Consider doing what this room has done and repeat the chevron pattern from the drapes in other pieces throughout the room.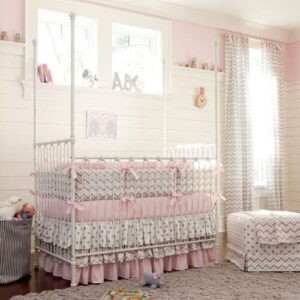 (Source: Houzz)
The bright aqua chevron drapes and accents in this bright white bedroom add warmth, and keep it from looking cold and sterile. The patterned pillows coordinate beautifully with the chevron drapes.  This room is a great example of how two basic colors and really fill a room with a fun pattern such as chevron.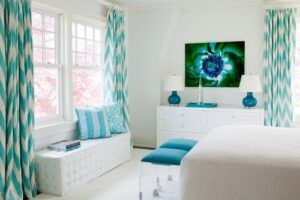 (Source: Houzz)
In this bedroom, our Drapery Street Designers paired grey and white chevron drapes with gorgeous natural shades from Hunter Douglas to create a serene and peaceful feel. The chevron pattern adds a vibrant touch to this neutral-toned room.  In our previous blog post about decorating with grey we discussed how grey is a great neutral that is also very trendy right now.
As you can see, there are a variety of ways to use the chevron pattern in your home décor. No matter how you choose to use it, it will definitely make an impact. If this is the type of bold statement you are looking to make, contact us to schedule a design consultation. We'd love to discuss all the ways the chevron pattern can add life to your home.   And remember, to guarantee your drapes are ready for the holiday season, we need to receive your order by November 8th, so don't wait.