Color Trends | Decorating with Navy Blue
There are few colors that are as classic and beautiful as navy blue. Decorating with navy blue is a popular color choice right now, and we definitely understand why. Navy blue is a strong color that evokes a feeling of elegance and tradition. But just because it is traditional doesn't mean that it's boring! One of our favorite navy and white patterned fabrics for drapes is this updated trellis pattern, now available in Made to Measure draperies.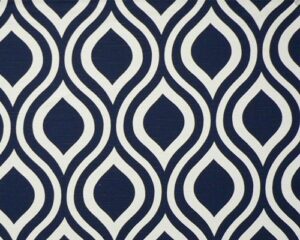 Navy blue and white is a popular color combination that has stood the test of time. This versatile duo fits with a wide variety of decorating themes, from natural to nautical. Pairing navy and white together gives your room, a crisp, clean, elegant feel.  Pairing navy with other colors can really brighten up a room and make it more modern.
If you want to brighten things up a little bit, pair navy with yellow for a sunny, fresh look. Yellow is a great accent color to use for a room with a maritime or nautical theme.  The yellow patterned drapes in this room give an extra pop of color to a navy and white color scheme.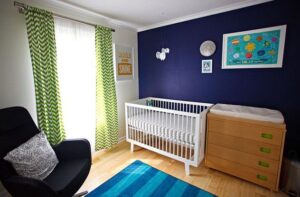 For a more modern look, pair navy with lime green. This combination is fun and whimsical, and is great for a kitchen or child's bedroom.  We love the chevron style for this nursery.  The eye-catching pattern plus the green give life to a basic navy and white décor.  Additionally, adding in a touch of pink could turn this traditionally baby boy room into a nursery fit for a sweet girl, too.
 Even outside of the nursery, navy is traditionally a masculine color.  But the right accent color can make a navy blue room more feminine. Consider pairing it with fuchsia in a master bedroom or living room for a more contemporary and feminine feel.
Navy is very cool and calm, but you can warm up a navy room by pairing it with orange. This combination is great for a more bohemian or earthy style room.  Drapery Street has everything you need to put the finishing touch on your navy room. Our classic navy Greek key trim is still featured at our trim bar along with many other beautiful choices.   Looking for that perfect accent piece? We've also got stylish ready-made pillows and decorative accessories to help give your room the perfect finishing touch. Contact us to schedule a consultation, or stop by our store at the Indiana Design Center to see all that we have to offer.