Color Trends | Decorating with Navy Blue and Neon
One of our most popular blog posts features ideas for decorating with navy blue. It's easy to see why that post gets so many views; navy is a classic neutral that is incredibly versatile and can be used in any room of your home.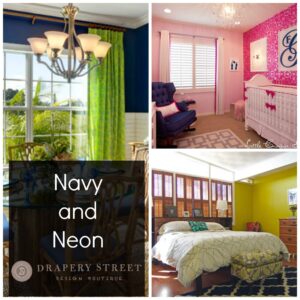 In this post, we're zeroing in on some great ways to pair navy with bright neon colors. These pairings are bold, modern, and fun. If you love these color combinations as much as we do, our designers can help you find the perfect window treatment to complete the look.
(Source: Houzz)
This tropical dining room is a beautiful mix of natural wood tones and deep navy with lime accents. The drapery panels have a gorgeous lime and blue print. We would add some Hunter Douglas textured shades to complete the look!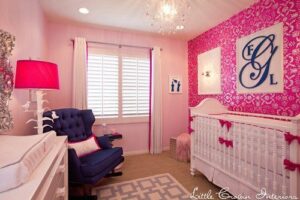 (Source: Houzz)
Combining bright pink with navy can make a very contemporary and feminine nursery or little girl's bedroom. The bright pink and the dark, calming blue make a beautiful contrast. White shutters and white drapes (with pink trim) help keep the room from feeling too heavy or dark.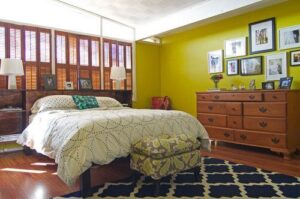 (Source: Houzz)
This bright chartreuse wall could be overwhelming, but it's toned down by natural wood and navy accents. Shutters are a great, versatile choice for bedrooms, and we have several full-sized examples of Hunter Douglas shutters in our Carmel store.
Are you in love with navy and neon? Let's work together to find a way to bring this modern classic to your home. Schedule a design consultation to learn more about our process, and how we can help re-invent your space. You can also see our complete collection of patterns, drapery panels, and Hunter Douglas products at our store, just north of Indianapolis in the Carmel Arts and Design District. For more design inspiration, be sure to follow us on Pinterest. Whatever your needs, we'd love to connect with you!