Design Trend | Decorating with an Ikat Pattern
If you're looking to add an exotic twist to your home décor, an ikat pattern may be the perfect choice for you.  These bright and interesting patterns can add flair to any room.
Most people think of Ikat as a specific pattern.  You can impress your friends by noting that it is in fact a weaving and dyeing technique.  Think of it as tie-dye before the fabric is woven together.  The word "ikat" is an Indonesian word that translates to cord, thread, or knot. Ikat weaving is a method of weaving where individual threads are dyed prior to being woven into fabric. The result is a beautiful, vibrant patterned textile. Ikat is among the oldest types of textile decoration, and in many cultures it is considered a symbol of wealth and prestige.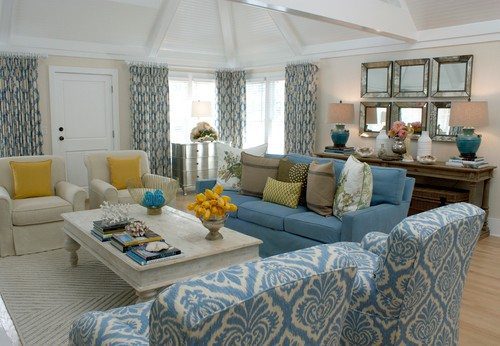 Although ikat has been around for several centuries, it is still popular in interior design today. Ikat patterned fabrics are used in drapes, pillows, upholstery, bedding and wallpaper variety to add beauty to a home.  An Ikat pattern will look much different on a sofa than a drapery.  In the picture above, you will see how the drapery pleats cause the fabric pattern to move in waves as opposed to laying flat on a piece of furniture.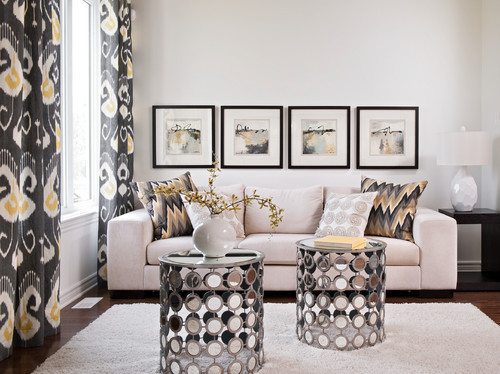 Ikat can be bright and bold, but it's more versatile than you might think. Ikat patterns come in both bright and soft colors, so you can find a print to suit almost any room. Ikat patterns can stand alone in a neutral-toned room, or you can pull colors from the ikat print into your décor.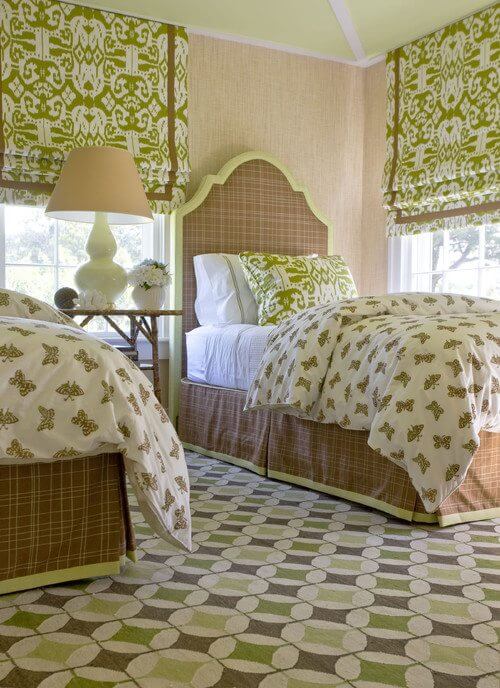 Ikat mixes very well with other patterns.  In the picture above they have mixed a geometric, one-color ikat and butterflies to create a stunning one-of-a-kind room.  If you love ikat but want to make a more subtle statement, consider accenting your room with an ikat lampshade or throw.
Ikat is an ancient art form, but using it in your décor will make your room feel modern and fresh. The skilled designers at Drapery Street can help you incorporate ikat into your home in way that is true to your personality, taste, and budget. Schedule a consultation with one of our designers to find out exactly how we can help. Or stop by our store to browse our collection of ikat drapes, pillows and accessories. You can even take home a sample to see if this unique pattern is right for you. Let us help you find the perfect look for your home.