Design Trend | The Elegance of Damask Drapes
Damask is a classic fabric that has been used in decorating for many years. This elegant pattern, born from an ancient weaving technique, is a popular choice for upholstery, draperies, shades, and accent pillows.  Damask has stood the test of time due to its beauty and versatility, and we think it could be a great choice for your home.
In this Drapery Street design, we used blue damask drapes to highlight the refinement of this music room. The pattern of the damask drapes is also reflected in the rug. This is a timeless look that will always be in style.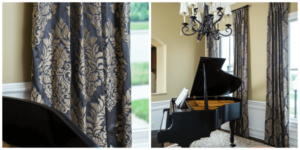 One of the advantages of using damask is that it mixes well with other patterns. In this contemporary living room, black and white damask drapes are used alongside geometric prints to create a polished, modern setting. The bold colors of the furnishings contrast nicely with the black and white damask. Many people are unsure of the best way to mix prints, but our designers can help you find which patterns work well together.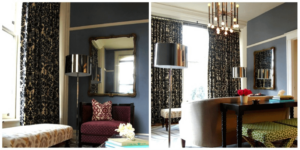 (Source: Houzz)
By simply changing the color of a damask print, you can greatly change its effect. In this hallway, neutral-toned damask drapes are used to give this space a stylish but subdued feel. The drapes complement the gorgeous artwork on the wall, highlighting its appeal rather than competing with it.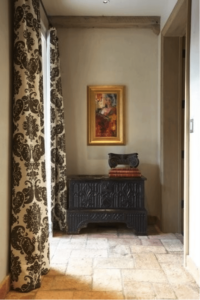 (Source: Houzz)
If you would like to add the elegance of damask to your home, schedule a design consultation with us. Want to see our damask up close and personal? Stop by our store, just north of Indianapolis in the Indiana Design Center. You can even take a panel home with you to see if it fits your style. We'll help you find the right look that is uniquely you!