FAQ – Frequently Asked Questions
How do you measure to insure the right fit?
All our staff is trained and we only use professional installers. There are often options that need to be considered in terms of placement of drapery, shades, blinds and shutters. We know what works best and we will always provide you with our best recommendation to meet your needs and to look the best.
What happens at an in-home design consultation?
An in home design consultation is not always necessary….although an in home professional measure is necessary for any custom product.
We are so experienced that even basic measurements, photos of your window and the space allows us to make excellent recommendations for you.
When a home visit is needed; we will schedule it promptly and to fit with your schedule.
We will look at fabrics in your space and in your lighting.
We will understand any construction details that affect placement or fit with your window and the surrounding walls and ceilings.
We will professionally take measurements or we may send the installer to measure at another time.
When is it time for an in-home design consultation?
After an in-store visit you are ready for final selection and onsite measuring in your home.
Why do we charge for design consultations?
We use only professionally trained and credentialed window specialists who continue to invest in staying current with the newest information about function and fashion. We find that these experts actually control the cost, reduce mistakes that can be made and insure that the buyer is totally satisfied with their purchase. We always recommend that the shopper come to the store first. Here we can show you the full range of choices and narrow to the selection that is most likely to meet your needs. This part of the process insures that the time we spend in your home will be organized and productive.
What is the difference between custom drapery and ready-made drapes?
Ready-made drapes are available at many places like Restoration Hardware and Pottery Barn. Drapery Street also offers Ready-To-Drape choices and here's the difference. Chain stores often manufacture overseas and typically source fabrics in a limited range of colors and qualities. These drapes are not intended to meet your unique requirements.
Drapery Street customizes even Ready-to-Drape choices by selecting fabrics that we can buy at a great price that are of the highest quality and style. We then construct these drapes locally with our English bump lining and custom construction techniques offering the finished drapes in limited quantities.
You can choose exactly what you want and have it right away, at a price point similar to what you would find in specialty home furnishing stores.
You can also step up to more customized options where you not only choose the fabric and the dimensions, but you also add trim and details that give you a custom look. This approach is called Made-To-Measure. These embellishments style your windows to "make the room". They add a design quality that is not found in off-the-rack drapery.
There are times when you want to really create a "wow" factor with your windows. This may be in your living room or dining room or master bedroom for example. A totally custom window is called Bespoke. This means that you are choosing from luxury fabrics, couture construction and high end hardware. This may not be your choice for every room but it can be a great investment for the special rooms in your home.
How can I improve energy efficiency with window treatments?
Hunter Douglas is the industry leader in making a big energy savings difference at the window. In 1985, Hunter Douglas invented the highly energy-efficient Duette® honeycomb shades in response to the energy crisis of the late 1970s. More recently, they've introduced Duette Architella® honeycomb shades, which offer superior energy efficiency thanks to their patented honeycomb-within-a-honeycomb construction, and Vignette® Tiered Architella Shades, featuring rear fabric air pockets that trap air and create an extra layer of insulation.
Without energy-efficient window treatments, as much as 50% of a home's heating and cooling energy can be lost through its windows. All Hunter Douglas window fashions provide window insulation, offering your home increased protection against heat loss during the winter, as well as minimizing the sun's heat or "solar heat" during the summer. More specifically, here's how Hunter Douglas products help conserve energy at the window in these three significant ways; insulation, solar heat control and daylighting.
How do I measure for window treatments?
Download our How to Measure for Window Treatments Guide
How do I avoid making a mistake when buying window treatments?
Rely on experts – Always work with a professional to design, measure and install window treatments
Know your functional needs and other design criteria ahead of time
Set a general budget range
Visit the store to actually try things out
Take home samples
Buy products with a guarantee – Hunter Douglas offers a Lifetime Guarantee and a Right Choice Promise
Commit when you feel totally comfortable with your purchase
How do I prepare to shop for window treatments?
Preparing for your visit to the design boutique makes your experience more fun and productive.
Ahead of time gather inspirational pictures from magazines or websites. We like Houzz.com which is free and easy to navigate. Type Drapery into the search field and you will find thousands of inspirational photos.
Bring along photos of your space and the window area plus photos of the furniture pieces you plan to use in the room.
If you have paint swatches or other fabrics those are good to have with you as well.
Last bring us the basic measurements of your room and window, download our how to measure guide at (link). Don't worry about exact measurements; we will come out to verify measurements before a final purchase is made.
What kind of money should I budget for window treatments?
Our customers find that they are happiest with choices they make in the range of $500 to $1500 per window. This is simply a range and we do have customers who spend more or less per window. Many times people want to outfit a new home with window coverings that provide a functional covering and then layer drapery or shades over the basics. Others prefer to decorate their home one room at a time and get exactly what they want. No matter what option you chose, we have 0% same as cash options to help fit any budget.
We are here to help you learn what you can get for your budget and how to get the very best solution for your style and budget.
Why are window treatments so expensive?
Window treatments are available in a wide range of price points. What is most critical is that you understand your choices relative to what you want to accomplish. The material, the construction and the installation of the window treatments all determine the price. Drapery Street has professionals who will guide you through the selection process and educate you about the choices you are making.
Fabric – Drapery Street works carefully to insure that fabrics selected are the best quality regardless of price point. We have over 300 fabrics that make up our selection and each of these has been sourced from around the world for style and quality.
Construction – Whether you choose drapery or shades or blinds, the way that they are constructed determines how well they will work for you and whether you will be satisfied with the look. For example investing in drapery lining called English Bump makes a drape look much fuller and richer and acts as an energy saver. The lining may add cost but the investment allows you to use a width an a half instead of two widths of fabric. We are the experts and you can rely on us to help you get the best value for your money.
Installation – is a process that is affected from the moment selection is discussed through to measuring and finally installation. Proper measuring, manufacturing without cutting corners and then careful and exact installation all contribute to a beautiful result that you will be enjoy for a long time.
What does it mean to be a Hunter Douglas Centurion Gallery?
Drapery Street is a designated Hunter Douglas Centurion Gallery which means that we can show you and sell you every product that Hunter Douglas sells. It also means that we have certified Hunter Douglas professionals working at Hunter Douglas and that we can offer all the Hunter Douglas guarantees and promotions that may be available at any time.
What products does Drapery Street offer?
Drapery Street is a truly unique design boutique. We have deep expertise with the design and construction of custom window coverings including drapery, shades, pillows, and all things fabric. Our selection is designed to meet everyone's lifestyle needs with products that are Ready-to-Drape, over 300 fabrics that can be Made-to-Measure and then an unlimited availability of totally custom Bespoke creations limited only by your imagination.
We are a Hunter Douglas Centurion Gallery which means that we offer everything that Hunter Douglas manufactures from shades, to blinds and shutters. Hunter Douglas is the highest quality brand and offers the most complete and innovative line of window coverings. The Gallery gives you a chance to see full size products installed the way they would be in your home with all the working parts. This is essential to making an informed choice.
Drapery Street also offers window hardware, a collection of custom bedding and decorative accessories, and fun fashion accessories.
Where is Drapery Street located?
Drapery Street is located at the Indiana Design Center at 200 South Rangeline Road in Carmel.
Is the public able to shop at Drapery Street?
Absolutely! We welcome everyone to shop at our boutique.
Does Drapery Street sell to the trade?
Yes! We work closely with numerous interior designers and other members of the design trade.
Why is Drapery Street the best place to shop for window fashions?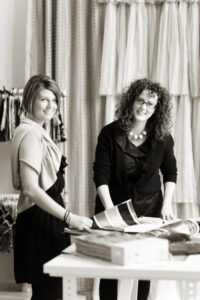 We offer the widest selection, hottest styles and ability to create custom window treatments within your decorating budget. There's no need to settle for "off the rack" window treatments when you can enjoy drapes that fit your style, décor and budget exactly.
You'll work with experienced designers who'll walk you through every step of the process – from style selection to measuring to installation. You'll never feel pressured to make a decision and you can even take home samples to see the products in your space.
Our boutique features full-size drapery panels and to-scale Hunter Douglas Gallery displays, which means you can see and feel the products first hand before making any buying decisions. You can even take home full size samples to make sure you are confident in your final selection.
Our goal is for you to absolutely love your treatments! You can rest assured we stand behind our products and offer the Hunter Douglas Right Choice Promise, which provides a 100% satisfaction guarantee.
What kind of store is Drapery Street?
Drapery Street is a unique boutique that offers both "ready-made" and completely custom drapes and window treatments. We offer a wide assortment of window treatment options including drapes, blinds, shade and shutters as well as other custom fabric-based home décor items such as pillows and bedding.
We provide a creative, welcoming atmosphere that is focused on helping our customers select the ideal window treatments for their home. Our designers work closely with each client to hand select or create custom window treatments that fit any style and budget.