Design Trend | Greek Key
Classic. Bold. Geometric. Elegant. These are all words that describe the interlocking spiral of the Greek key pattern, one of our favorite current design trends. Whether used in a full drape or as a trim, this pattern can add a stylish touch to any room.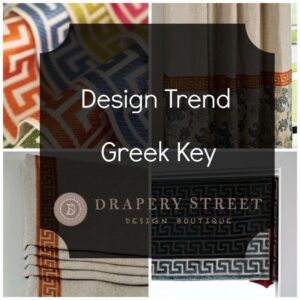 Our 2013 Indianapolis Home-a-rama project featured Greek key in many places, including over the kitchen sink. We love the understated beauty of this Greek key printed mock shade. The velvet in the print adds texture and depth.
Greek key is also a beautiful accent that can be added to any drapery panel. One of our favorite ways to use Greek key is to join two colors together with a band of Greek key trim. These lovely yellow and navy silk drapes are perfectly accented with Greek key trim. This pattern isn't just for drapes; for added effect, you can repeat Greek key in pillows, rugs, and upholstery. Our 2014 Magalog can provide you with some additional Greek key inspiration.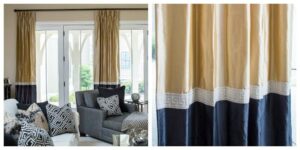 Greek key also plays well with other patterns. This regal formal living room has drapes with golden Greek key trim, natural textured shades, and velvety floral accents. All of these elements combine to create a stylish and majestic setting.
(Source: Houzz)
Spring is right around the corner, and adding touches of the Greek key pattern is just one way you can breathe life into the look of your home. For more ideas and inspiration, come see us in the Carmel Art and Design district and view our collection of drapery panels and trims. You can also schedule a consultation with one of our expert designers. We can help you find out if Greek key (or another gorgeous style) will unlock the beauty of your home.