Design Trend | Striped Drapes
In the world of interior design, there are some pattern trends that come and go, and others that endure. Stripes are a pattern that have stood the test of time and will be popular for many years to come. You can create a wide variety of looks with stripes, simply by varying the size, color, or direction of your pattern. Stripes work particularly well with drapes; here are just a few of the ways striped drapes can add beauty to your home.
Large stripes in contrasting colors create a very bold look. The thick horizontal stripes on these drapes demand attention and draw your eye to the window.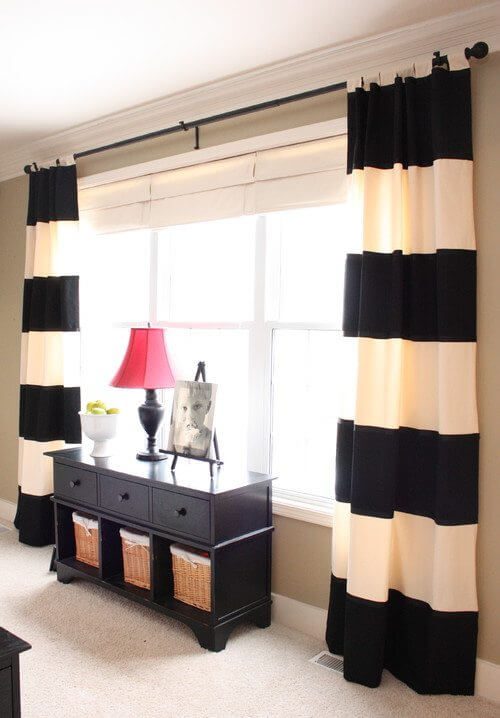 (Source: Houzz)
Thinner striped drapes in complimentary colors create a more understated effect. These blue, taupe, and beige striped drapes make this living room feel calm and relaxing, and they look great with the natural woven shades.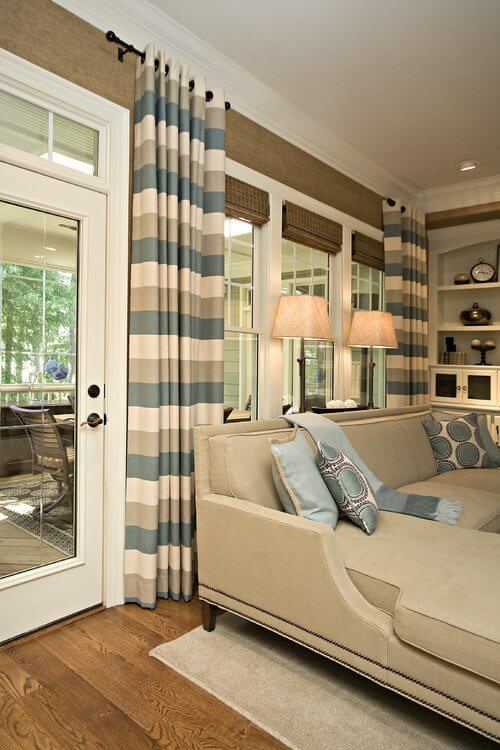 (Source: Houzz)
 You can create an entirely different look by simply changing the direction of the striped pattern. These vertical striped drapes create a beautiful two-tone effect when pulled back. We love the tasseled tie-backs!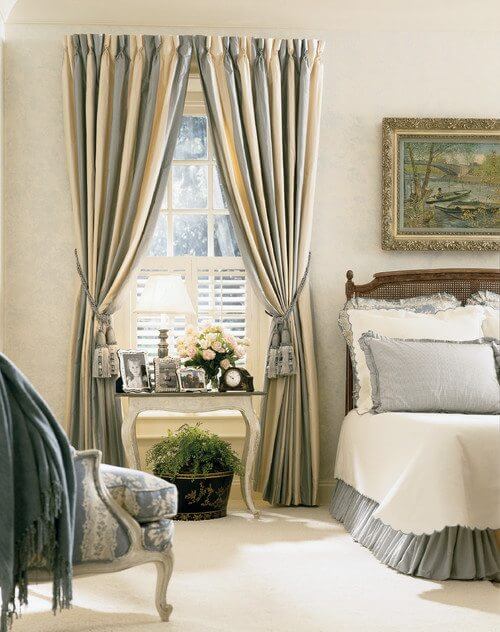 (Source: Houzz)
 Your use of stripes isn't limited to drapes. This Drapery Street design features a warm-toned horizontal stripe shade. The varying thickness of the stripes creates a pretty focal point over the kitchen sink.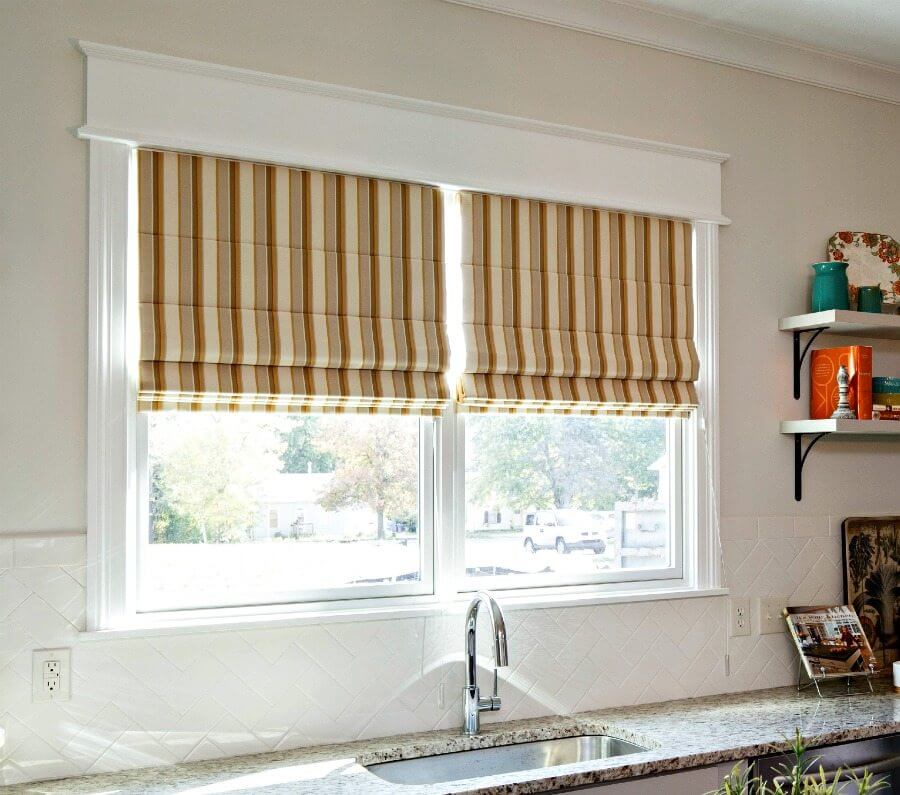 On this design from the Indianapolis Home-a-Rama home we collaborated on, we used a small pleat in the fabric to create a subtle stripe on these drapes. This small detail really helps these neutral drapes stand out against the beige wall.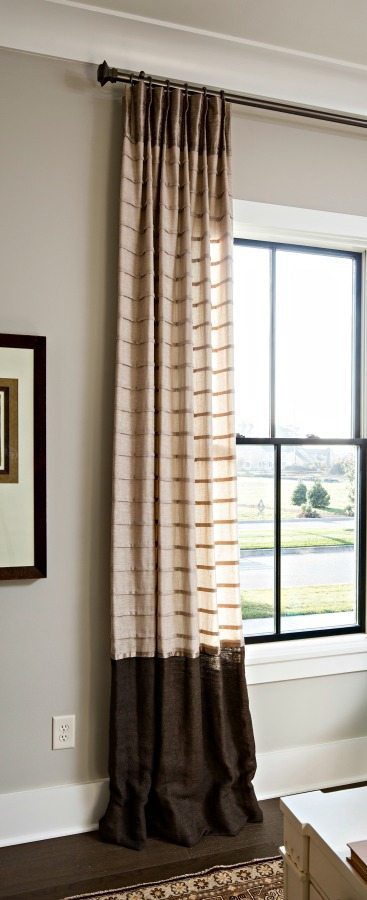 Even when used sparingly, stripes can transform a simple drape into something beautiful. In this Drapery Street design, we used two emerald green stripes to create a lovely detail on a white drapery.  If you like stripes, but don't want completely striped drapes, consider choosing a design with stripes at the top or bottom of the drape. Just a few stripes can make a big difference.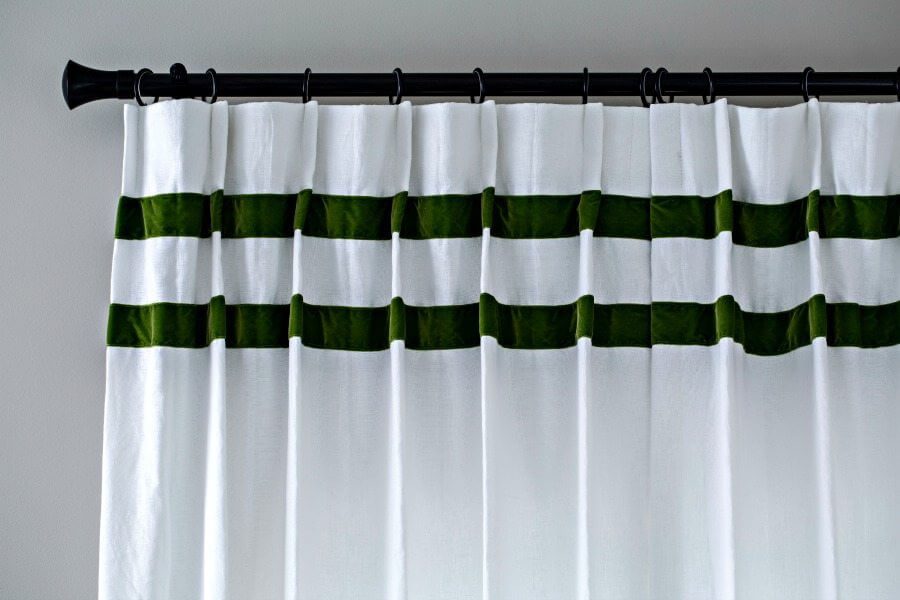 When it comes to decorating with stripes, the possibilities are endless. Thick stripes, thin stripes, horizontal stripes, and vertical stripes all create looks that are extremely different, but equally beautiful. If you love the classic beauty of striped drapes, we'd love to help you create the perfect window fashion for your home. Contact us to schedule a design consultation, or stop by our store in the Indiana Design Center. You can take a striped drapery panel for a "test drive" and find out if stripes are the right choice for your home. No matter your taste or budget, we're confident that we can help you find a look you will love.