Meet Our Team
Caryn O'Sullivan – Owner
Caryn has a unique start for a design boutique owner… It is her combination of skills, with a passion for discovering new ideas and products, that bring you the unique fabrics and designs that you see at Drapery Street Design Boutique. Blend this with an amazing team of designers, artists, and textile artists and you have a studio bursting with creative ideas that also keeps an eye on cost, unparalleled quality, and reliability.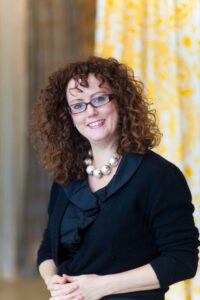 "Moving to Indianapolis from Chicago and remodeling two homes was part of the inspiration for starting Drapery Street. I experienced first-hand what it is like to select from the sea of options and create a space that is uniquely you. I appreciated artisans I worked with on my projects who were able to merge my ideas with their experience to create a fantastic final product. I love brainstorming with customers and helping them bring their ideas to life – within their budget, timeframe and their unique style. This is the reason we have a workshop environment that really includes the customer in the design process.
People look to Drapery Street for inspiration so I am always learning and presenting new things in the design boutique. Traveling around the world, I have inspected drapes at the Ritz in Paris, the Duke Hotel in London and noting different construction techniques and fabric resources, I have found gives Drapery Street the best that the world has to offer. People have all different styles so we have created four style collections and three ways to shop. Customers can easily narrow the choices by using the window planner tool that we have created and by relying on the professional guidance of our certified Hunter Douglas Gallery experts. I have worked on all types of windows and budgets. I will never push a customer! I make sure they are comfortable and excited about the decision. I get great pleasure and satisfaction when I see "the after ". Even after thousands of windows, I am still blown away by how drapes complete a room. It makes it feel like a home."
---
Tiffany N. – Director of Design
Contact Tiffany at [email protected] or 317 816-9774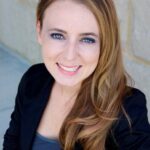 "I was working as an intern for a realty group downtown when I realized that I loved being in the homes to see how they were designed. I wanted to improve on the homes not just sell them. I then interned at a design firm where I fell in love with design even more. I focused my college years on working towards my degree in Interior Design. Then I landed an Internship with Drapery Street where I just found my niche.
I love my job! I come with an open mind and an honest opinion. I love trying out new ideas and brainstorming ideas. Some of my favorite places to look for inspiration outside of the store are Houzz, Pinterest, and antique shopping. One of my favorite things about Drapery Street is that I am always amazed at how drapes can make a room. I get the greatest pleasure when we are at the install and the drapes are being hung. Seeing the client's reaction to how drapes change the feel of the room is so rewarding. It is great to know that I have truly made someone happy!"
Here's what my clients have to say:
"Tiffany did an amazing job. I was thrilled with results. It was a very pleasant experience." Tiffany A – Indianapolis, IN
"I love Drapery Street and would recommend it to anyone. Every person in your store is friendly and helpful. I wish I had more drapes to buy!!" Mandy H. Westfield – IN
---
LuRhe C. – Designer
Contact LuRhe Castetter at [email protected] or (317) 816 9774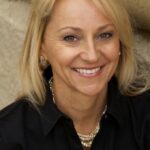 LuRhe Castetter has always been a perfectionist. She is the first to admit that she likes when things are done right and she takes pride in being completely thorough. After a career as a flight attendant with Delta Airlines, LuRhe has found joy in learning the business of window treatments and earning her Hunter Douglas Certification. "I really enjoy listening to people tell me about their wants and needs. I ask a lot of questions so that I can be sure that we deliver what the customer is dreaming of. When I came to work at Drapery Street, I immediately understood how important listening is. You have to capture the finer details to truly service the customer. I never feel impatient because I want to give my customers confidence that we will understand their inspiration, help them to be creative and then make a selection that is uniquely theirs. That makes me happy and hopefully, makes them 100% satisfied and thrilled with their purchase."
---
Erika R.
Contact Erika at [email protected] or(317) 816 9774
Landing a job in the design industry has been a huge change from my background. I went through college with internships in the Orthopedic world, spent the first four years after graduation in the Orthopedic field. I traveled across the United States doing auditing and then concentrated on inventory management. After spending my entire adult life working in the medical field I took a leap of faith and opened a women's clothing boutique and ran that for three years before finding myself at Drapery Street.
I love working at Drapery Street for many reasons; one being I thoroughly enjoy coming to work every day! I feel blessed to enjoy the work I do and help customers fall in love with window treatments that are going to make their house a home. Not coming from a design background, I am an open book. I am there to listen and help you through the process of making decisions and picking out treatments that are going to best fit your needs. I love leaving a customer's home knowing they are going to absolutely fall in love with the end result.
I would label my style as classic, clean lines and timeless. There is something about a well put together home, that will withstand the crazy trends that are going on in the world. Do what you love with your home, have fun with it. Your home is your canvas, it is your sanctuary, let's make it fabulous!
---
Char C. – Assistant Designer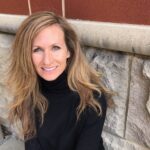 Contact Char at [email protected] or (317) 816 9774
Char grew up with a passion for all things interior design and that passion has never left her. She enjoys decorating her own home and helping others with theirs. When friends need help selecting items for their homes, it's Char they call on first! She is an HGTV fanatic and loves attending builder open houses, touring model homes, reading design magazines, and using social media to find what's trending in design. Char draws inspiration from a wide variety of places… from salvage yards to upscale boutiques, from the IMA to paint stores.
Char is a great listener and uses this skill to uncover the wants and needs or her clients. She takes a solution-based approach to help clients choose not only beautiful products but ones that will fit the demands of their daily lives. Nothing makes Char quite so happy than hearing a client exclaim, "I love it!" at the end of a project.