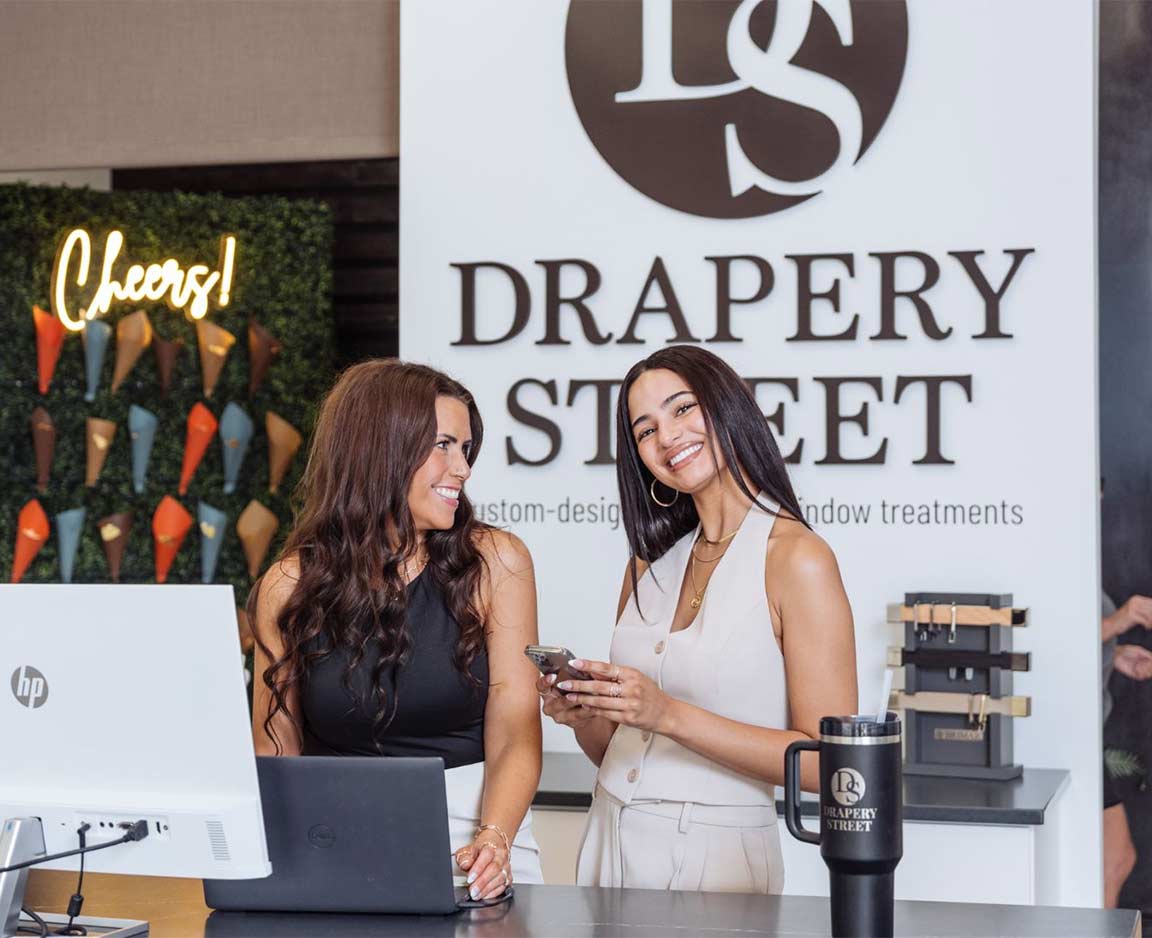 Warranty & Repair Request
At Drapery Street, we pride ourselves on providing high-quality products and expert design services… all to bring our customers the best possible experience. Know that we're here for you every step of the way. If you encounter a problem with your products or installation, let us know. We'll do our best to make it right!
Repair Request FAQs
If there is a defect, malfunction, or other problem with your window treatments…
…we're here to help! Drapery Street is proud to sell high-quality blinds and window treatments, and we want to make sure you're completely satisfied. Our products are built to bring you many years of enjoyment if cared for and used properly. To back that up, our products are covered by manufacturer warranties. In the rare case of a problem with your product, we will work with you to resolve the issue.
If your new window treatments were installed incorrectly…
…we will fix it! While unlikely, if the measurements of your product are incorrect, we will replace the product at no extra charge. If an error is made during installation, we will also reinstall the product for no additional cost. We are proud of our work and stand behind each and every one of our professionals. However, we know that even professionals can make mistakes, and we're here to make sure you're satisfied with our work.
If your window coverings need to be repaired…
…contact us as soon as possible!
Products purchased through Drapery Street come with guarantees. To ensure you're completely satisfied and help correct any issues that you encounter with your products, Drapery Street offers free in-home service for the first year after the date of purchase.
After that time period, a service call has a fee of $149 which includes service for up to two shades. Each shade after the first two is $25 each. Shades with improper diagnosis prior to arrival or that were not originally purchased through Drapery Street may incur additional costs if additional technician visits are required.
Additional charges apply for windows located 12′ or higher or shades greater than 8′ wide. If you would like temporary window coverings in the event your shade needs taken down for servicing, additional charges apply.
Drapery Street follows Hunter Douglas's Limited Lifetime Warranty and shades outside of the warranty are subject to charge.
Drapery Street may request photos and videos to diagnose prior to scheduling a service appointment. This is to better assist in the diagnosis prior to arrival.
To schedule repairs to your Drapery Street products, contact us using the Repair form below.
If you find you don't like your new window treatments…
…we have a solution!
We think you'll love our products, but we know that every home is different. Sometimes it takes a second try to get it just right. If you feel you selected the wrong material or style, contact us and we will allow you to purchase a new product to your liking at 50% off. This offer is valid for 30 days from the order date and must replace the original window treatment purchased through Drapery Street.
Additionally, all of our Hunter Douglas products come with the Hunter Douglas Right Choice Promise™. Once our installation is complete, experience and enjoy your new window coverings for a trial period of 21 days. If you're not thoroughly satisfied with your window treatments at the end of this period, use the Right Choice Promise™ to exchange them with the treatments that are right for you. Contact your salesperson during 21 days and 40 days of your installation and we'll arrange a one-time replacement of your window coverings with a Hunter Douglas product of equal or lesser value of your choice.**
The Fine Print
*In general, all fabric treatments are covered for one year against fabric and fabrication defects. Drapery Street's cannot warranty against damages caused by misuse or abuse of our products. Warranties apply to the original customer and/or installation with proof of purchase and covers any defects in materials or workmanship provided the product is measured and installed according to our product instructions.
**The Hunter Douglas Right Choice Promise™ applies only to residential installations. It excludes: damage and abuse, improper installation, mis-measurement, product stacking or control side change, hard-wired motorized products and specialty shapes requiring templates. Change in product size (i.e., inside mount to outside mount or vice versa) is excluded. An additional re-installation charge of $75.00 per window covering is required. If the replacement product is of greater value, you must pay the difference in value. No credits or refunds for products of lesser value. Claims must be made by the original customer through DS. The Right Choice Promise™ is available only through participating Hunter Douglas Gallery® dealers. Custom-made products such as blinds, shades, shutters, draperies, etc. are fabricated to your specifications and unfortunately no refunds or exchanges are possible. Custom purchases require a minimum of 75% deposit at the time of order. Custom orders cannot be canceled and deposits cannot be refunded once products are ordered, usually within 24 hours of receipt of deposit.
Additional charges:
Extra time: $100 per hour
Programming of Hub: $130 (includes 2 scenes for up to four shades, each shade an additional $15)
Changing of batteries: $25 per shade (includes batteries and time to reprogram shades)
Re-hanging of shades: $99 (includes up to two shades, $10 per each additional shade. High Ladder Fee and oversized charges may apply)
Additional Installer: If additional installer is required (shades over 8′ wide) a 2x premium will be charged.
High Ladder Fee: $22 per shade (windows located 12′ or higher and over 8′ wide)
---
Repair Request Form