Live Beautifully With Hunter Douglas Window Treatments
Hunter Douglas shades do more than
look good. Each product is designed purposefully, for enriching your days in unexpected ways.
Request A Consultation
Live Beautifully With Hunter Douglas Window Treatments
Hunter Douglas shades do more than
look good. Each product is designed purposefully, for enriching your days in unexpected ways.
Request A Consultation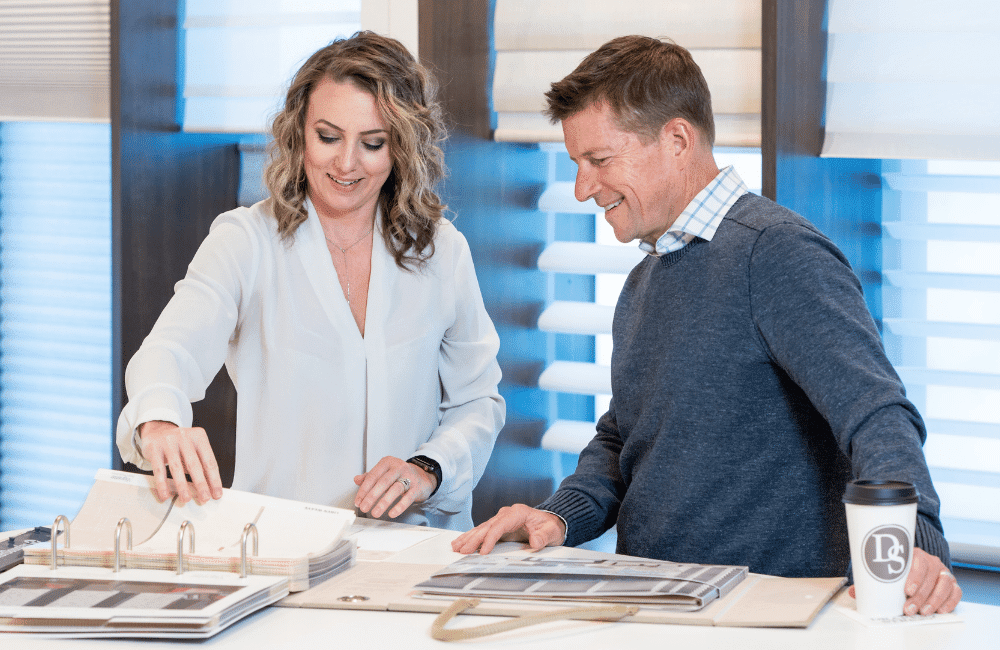 Avoid expensive mistakes. Through our no-pressure, consultative process, we'll help you identify & create your perfect window treatments.
Put away the ladder & measuring tape. From start to finish, our full-service team takes care of it all.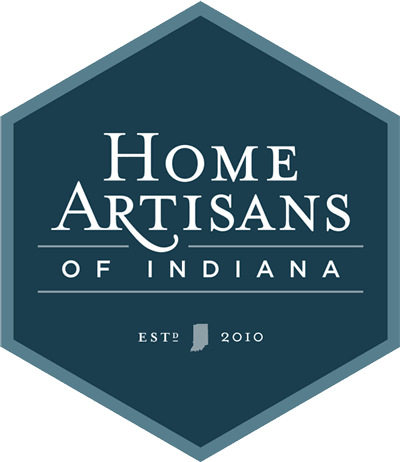 What Our Customers Are Saying...
"Great experience from start to finish! Our sales associate was very nice and so helpful. She explained everything in detail and made helpful suggestions in the selection of our window treatments. All of the Drapery Street staff were welcoming and friendly. Our order arrived on time, exactly as stated when we placed the order. Our installer arrived on time and completed the job quickly and efficiently and removed all the boxes, etc. with no mess left behind. He was also very friendly and explained clearly how to operate the window treatments. We will look forward to working again with Drapery Street in the future. Highly recommend!!"

As your Hunter Douglas Gallery, we can offer you exclusive products and the very best pricing.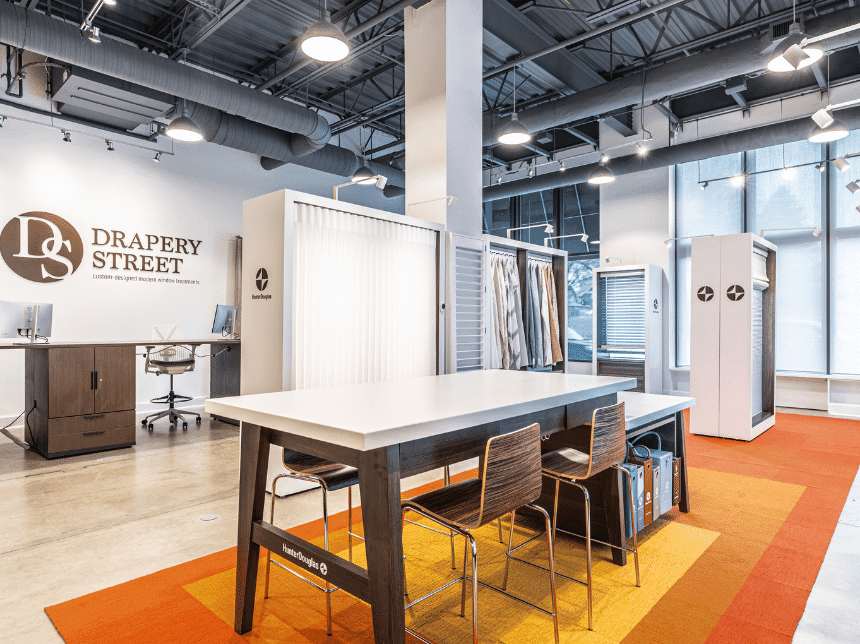 Drapery Street "Love It Guarantee"
Why Choose Drapery Street?
Interactive Showrooms: Try Before You Buy!
Experienced Design Experts + Installers (No Subcontractors)
Best Of Houzz Service and Design Awards
Custom Solutions For Even The Trickiest Windows
Locally Owned & Operated
Woman-Owned Business
Made In The USA
Hunter Douglas Lifetime Guarantee & Limited Warranty
Exclusive Products Only Available at an HD Centurion Gallery
Drapery Street's Love It Guarantee
What Our Customers Are Saying...
"Having heard very positive reviews of Drapery Street over the years, my expectations were high, so when they exceeded my expectations, I was overjoyed. They are an outstanding business. Not only does Drapery Street do beautiful work, they are exceptional to work with. I appreciate their professionalism, expertise, and caring manner! Thank you, Drapery Street!"
"Great sales, design, install experience. Quality product and custom to your needs."
"Drapery Street did a terrific job on my high ceiling living room window shade and hardware. It was a complex job due to the special order components and the installation. They worked with me to provide the results I had envisioned from the beginning and did not leave me hanging until we got there! I'm very glad that I found a world class supplier! Thank you so much Drapery Street Team!"
FAQS
Blinds, shades, shutters, drapes... which type of window treatment is right for me?
There's a lot to consider when it comes to selecting the right window treatment for each space of your home. Many people find the process overwhelming once they begin. That's why we're here to help!
Our designers have extensive training and years of experience designing window treatments. We know all of the factors to consider, so you don't have to. We will guide you through the process, asking questions along the way, helping you choose the products you'll be happiest with.
You don't have to know which product you want before getting started with Drapery Street. In fact, we'd encourage you to start with an open mind because sometimes what you think you want isn't what will look or function best in the space, which causes costly mistakes. Your Drapery Street designer will ensure you avoid expensive mistakes and that you love your finished look.
What warranties do you offer?
We stand behind our products and offer a Love It Guarantee, Limited Lifetime Warranty, and Hunter Douglas Right Choice Promise, which provides a 100% satisfaction guarantee.
We pride ourselves on providing high-quality products and expert design services… all to bring our customers the best possible experience. Know that we're here for you every step of the way. If you encounter a problem with your products or installation, let us know. We'll do our best to make it right!
What is the Drapery Street Love It Guarantee?
Our professional designers work with you to find the right window fashions for your style and needs. This collaboration results in window coverings that you love. We understand there are a lot of choices in products and colors. If you don't love the choice you have made, contact your designer within 30 days of installation, so we can work with you until you are satisfied. Replacement products will be charged at 50% off or through the Hunter Douglas Right Choice Promise.
I'm building a new home. When should I get started on my window treatments?
It's never too early to get started on your window treatment plans! Bring us your home plans before or during construction and we can begin the design process. If you want motorized treatments, we can ensure that the most up-to-date wiring and shade placement is reflected in your home's plan. We will coordinate with your builder, architect, and interior designer to customize the window treatments your new home deserves.
What is PowerView®?
PowerView® is a motorized operating system that allows you to move your shades with a push of a button, sound of your voice, or on a pre-programmed schedule.
Which Hunter Douglas products can be motorized?
Nearly all of the window treatments we offer can be motorized, including shades, drapes, blinds, and shutters. We offer the only motorized interior shutters with concealed batteries currently on the market. We also offer motorized outdoor roller shades.
Do you have window treatments that work on custom-size or specialty-shaped windows?
Yes! The beauty of Hunter Douglas window treatments is that they can be custom-fit to your windows. We have solutions for large windows, corner windows, bay windows, arch windows, circle windows, angled windows, skylights, doors, transoms, and sidelites. No window is too difficult for us to cover.
Do you have window treatments for doors?
Yes! We offer several products for doors, including patio doors, front doors, French doors, and sliding glass doors. We will make sure the product you choose still allows you to open and close your door with ease, without the treatment getting stuck in the door or covering up the doorknob/handle.
Are your window treatments safe for children and pets?
All of our window treatments are designed with safety in mind—a responsibility Drapery Street and Hunter Douglas take very seriously. From cordless and motorized operating systems, retractable lift cords, cord tensioners and wand controls, we offer a wide array of operating system options for enhanced child and pet safety.
Can I improve my home's energy efficiency with window treatments?
Without energy-efficient window treatments, as much as 50% of a home's heating and cooling energy can be lost through its windows. All Hunter Douglas window treatments provide window insulation, offering your home increased protection against heat loss during the winter, as well as minimizing the sun's heat or "solar heat" during the summer.
Hunter Douglas is the industry leader in making a big energy savings difference at the window. In 1985, Hunter Douglas invented the highly energy-efficient Duette® honeycomb shades in response to the energy crisis of the late 1970s. More recently, they've introduced Duette Architella® honeycomb shades, which offer superior energy efficiency thanks to their patented honeycomb-within-a-honeycomb construction, and Vignette® Tiered Architella Shades, featuring rear fabric air pockets that trap air and create an extra layer of insulation.
Your designer will help you choose an energy-efficient treatment that will meet your other needs too, like privacy and light control.
What opacity should I choose for my shades?
Opacity refers to the amount of light that passes through a fabric. Sheer fabrics allow for the most light to enter a room, but they offer the least amount of privacy. On the other end of the spectrum, blackout fabrics block nearly all light from entering a room, and they provide the most privacy.
Keep in mind that while every Hunter Douglas fabric provides some level of light control and glare reduction, the type of fabric and color you choose will have a significant effect on your window shade's opacity. Also, there are many additional options that can help you create more privacy no matter which fabric you choose — from liners and dual-roller systems to hardware features designed to block light.
Your Drapery Street designer will walk you through the opacity options and help you determine the right opacity, considering the needs of each room.
Hunter Douglas Promotions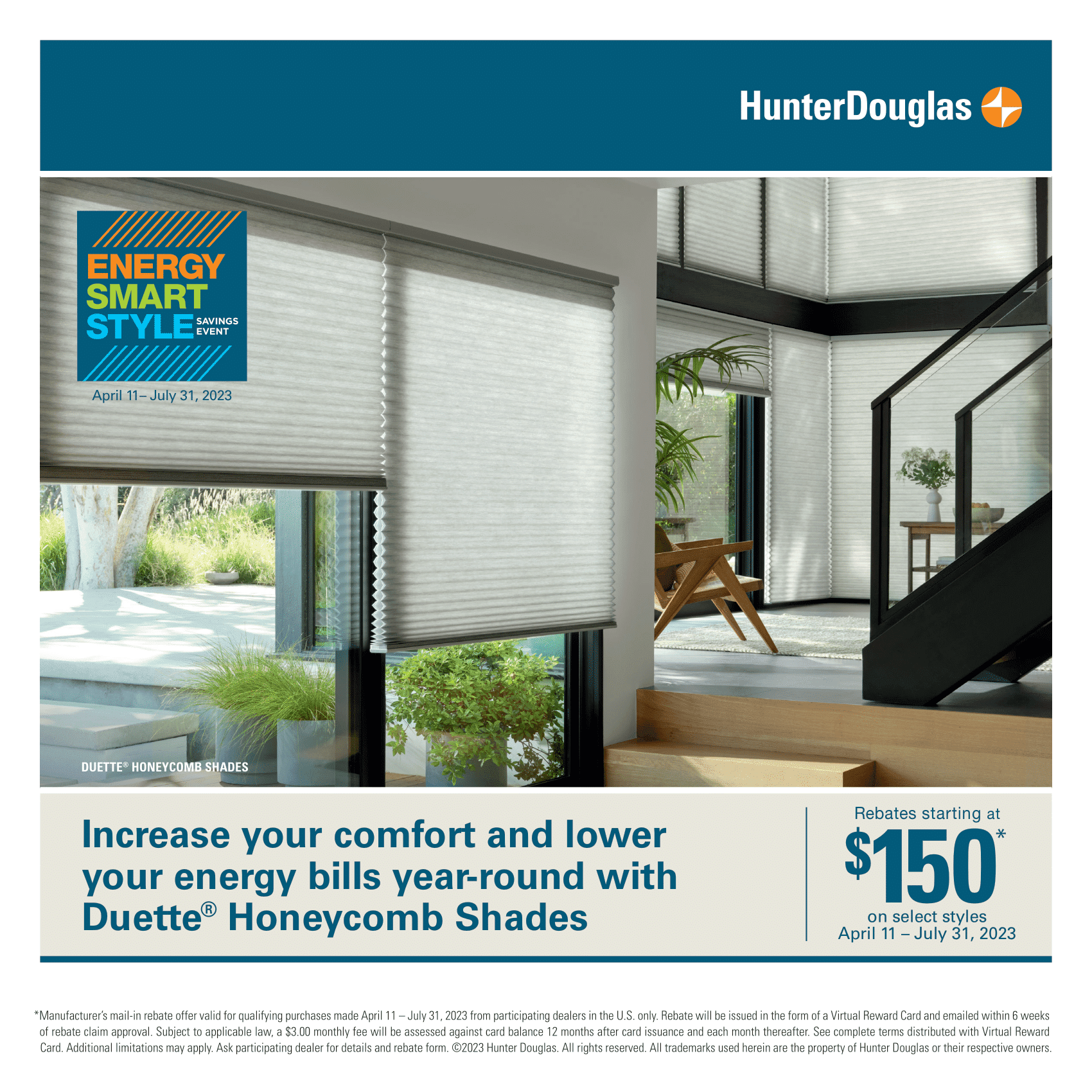 Our Instagram
This error message is only visible to WordPress admins
Error: Access Token is not valid or has expired. Feed will not update.