A dark room is an important key to getting a good night's rest, but many people find it difficult to obtain a truly dark bedroom. Street lights and headlights from passing cars can penetrate through many window treatments. Shift workers face an even bigger challenge. How does one create a dark atmosphere conducive to sleep during daylight hours?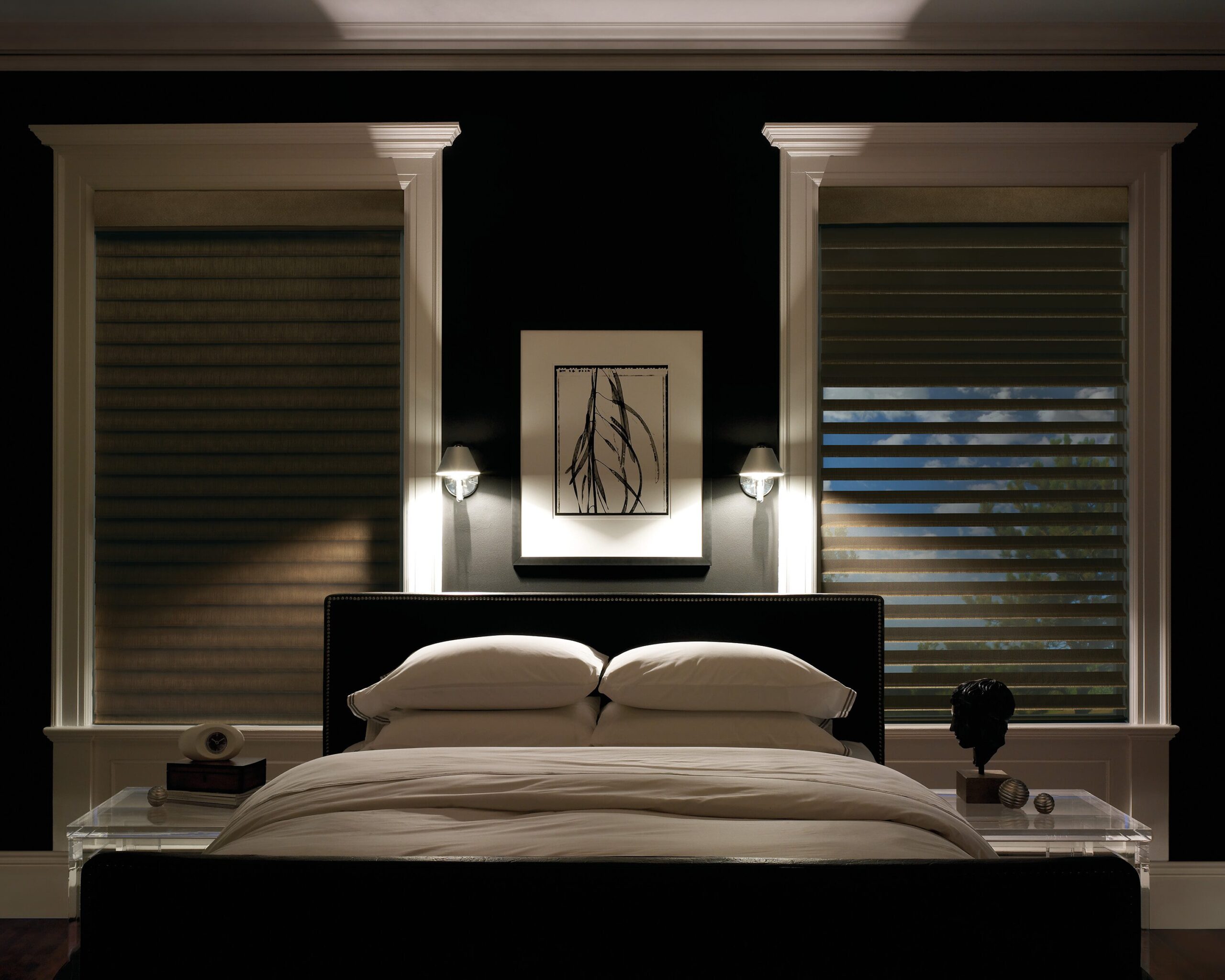 Drapery Street has several room darkening and blackout window treatments that can help you achieve a great night's sleep. These window treatments are also great for the nursery to help baby sleep during nap time. Blackout treatments even help with noise control (especially lined drapes). And don't forget your home theater—a dark room is also an important key to a great movie night!
When choosing room darkening and blackout window treatments, the first thing to do is determine the level of blackout necessary. Are you trying to sleep during the day or do you simply want a few extra minutes in the morning? This will help you and your designer determine the right window treatment option to meet your needs.
Get light under control with these room darkening and blackout window treatments:
Lined Drapes
Drapery lining is the unsung hero of the drapery world! Its benefits are varied and crucial—lining adds structure to drapes, protects your drapery fabric from fading, and provides insulation which can help lower energy bills. On the contrary, unlined drapes are limp, susceptible to fading, and lots of light pass through. Not only does this make it difficult to achieve a dark room, light passing through makes the fabric appear entirely different. Lining is something we almost always recommend. It is essential if you want to limit the presence of light in your room when the drapes are closed.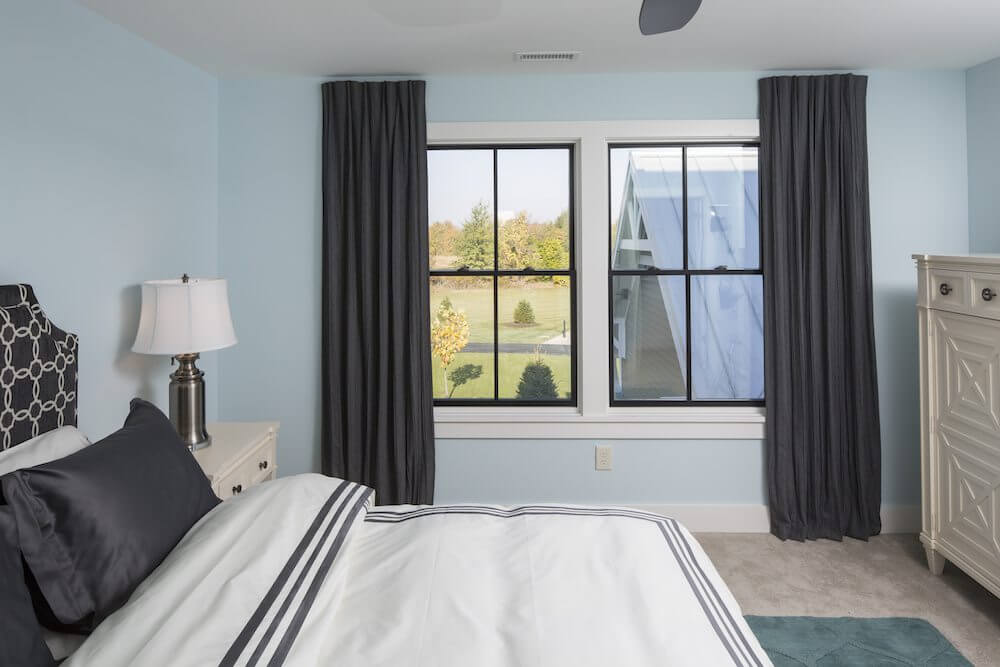 Not all drapery lining is created equal. Be cautious of off-the-rack drapes that are labeled "blackout." Many times these drapes include lining that is little more than black fabric attached to the backside. At Drapery Street, we offer several lining options and our room-darkening lining provides the highest level of light filtration possible.
Lined drapes should be hung near the ceiling so escaping light goes up towards the ceiling. A cornice can be mounted over the drapes to help this capture light. In addition, the closer the drapes are to the floor (or resting on the floor) the better the light containment will be. We have even velcroed the return of the drapes to keep light escaping from the sides!
Hunter Douglas® Products
Light control is an art that Hunter Douglas has mastered! Each of their products offers some amount of light control, but some have more room darkening benefits than others. If you're interested in a fabric Hunter Douglas product, such as Duette® honeycomb shades, choose a semi-opaque or opaque version. Hunter Douglas hardwood products, such as Parkland® Wood Blinds and Heritance® Shutters, allow some light to leak through so they are best for casual room darkening needs. Generally, darker colored products are going to offer more room darkening capabilities.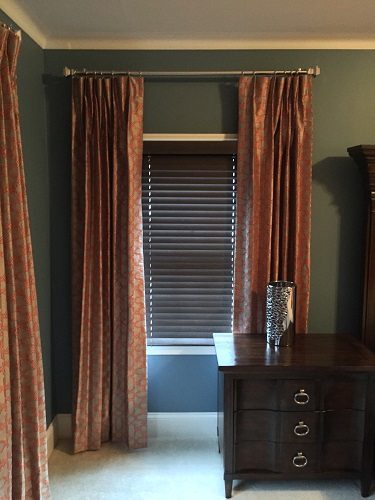 While these products can almost completely block sunlight, they do not entirely eliminate light. Light can pass through small cracks between the window frame and the product. If you want the truest blackout conditions possible, consider Designer Roller Shades mounted at least two inches outside the trim or a mounting track can be added to the roller shade. This will direct light to the sides and not forward into the room. Side panels can be mounted to capture this light when strong blackout is necessary.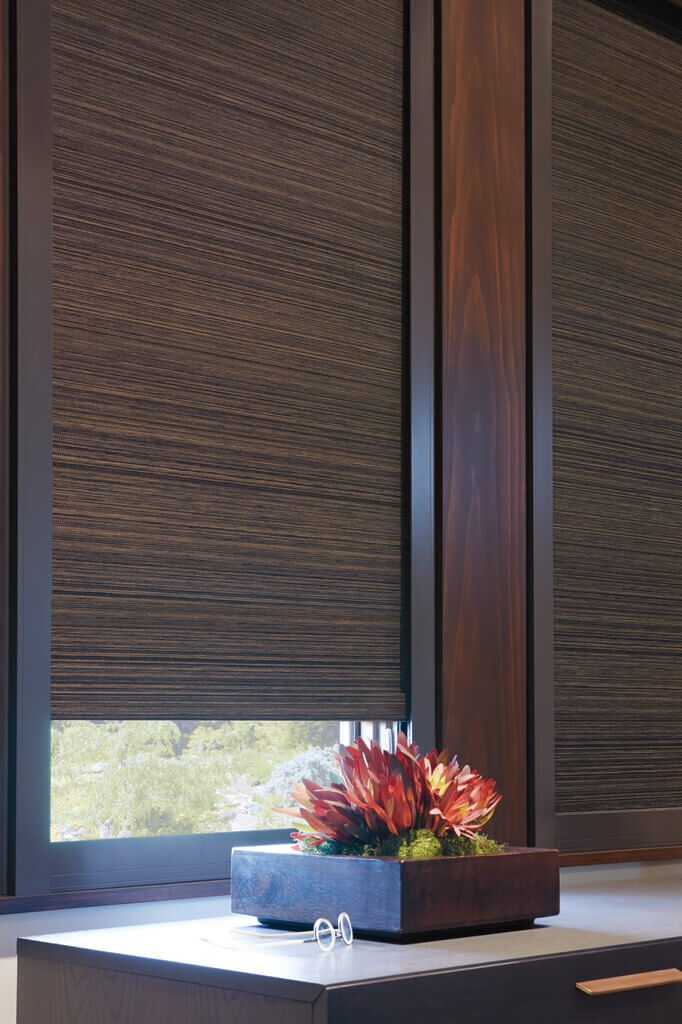 Window Film
Many people choose to install window film because they want to manage excessive heat and protect home furnishings from fading without blocking views and natural light. However, Hüper Optik window film comes in a variety of strengths and can be applied to windows to darken a room. Window film paired with lined drapes and/or a Hunter Douglas product would be a powerful room darkening combination!  

Light is like water and will seep through the smallest openings. The best blackout results will be achieved by layering treatments. If casual room darkening is your goal, a single treatment may meet your needs.
Don't put off restful sleep another night! If you're tired of light keeping you awake, talk to one of our window treatment experts. They'll ask you a few questions to discover which of these solutions (or combination of solutions) is the right one for you and your needs. Stop by our showroom, contact us via chat (the chat box located at the bottom of your screen), or schedule a free consultation here.