5 Reasons to Choose Custom vs. Off-The-Rack
When faced with the decision between custom drapes and off-the-rack drapes, some people may hesitate to choose custom because of the cost. Custom drapes are not inexpensive, but the benefits of custom drapes can save you both money and headaches in the future.
At Drapery Street, we like to call our drapes customizable drapes. One of the things that makes Drapery Street stand apart is that we have Ready-To-Drape items that you can be hemmed to fit your specific length.  These drapes can also be customized with trim to make them your own. Here are some other things that make our customizable drapes a better option than off-the-rack window fashions.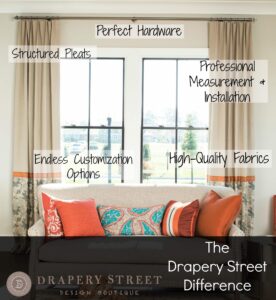 Quality
Most off-the-rack drapes are poorly constructed. They aren't hemmed properly, and they don't have pleats to give structure and stability. You also have little to no options for customization. The more expensive off-the-rack drapes have lining, but the lining is thin and of poor quality. All of these disadvantages, and often you are charged the same price as a custom drape.
Installation
When your purchase custom window treatments from Drapery Street, you are not just purchasing drapes or blinds. You also get the expertise of a designer that understands how your window treatments should installed, and the best placement for your drapery rods. Drapery Street designers will come to your home to take exact measurements, and will oversee the installation process to make sure that your drapes are a perfect fit.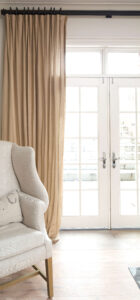 Product Knowledge
As we've stated before, purchasing custom window treatments gets you so much more than just a product. Working with a drapery designer means that you have access to their extensive knowledge. Drapery designers can help you find window treatments that will make your room look larger, limit or maximize light exposure, or help you reduce your energy bill. When you buy off-the-rack drapes, you're only buying a product. You don't know the best use for that product, or even if it is the best choice for your home.
Customization
When you purchase off-the-rack drapes, you are limited to what options are available in the store. You don't have the option of adding unique details; what you get is what you get.
At Drapery Street, you have access to a wider selection of fabrics, and then you have endless opportunities to customize with pleats, trims, and accessories. You can even take a drapery panel home to make sure it's the right choice for your space. Customizable window treatments allow you to get exactly what you want, rather than settling for what's available.
We'd love to talk to you more about our design process, and why we think customizable drapes are worth the investment. Schedule a design consultation to learn more and have all your questions answered. And be sure to stop by our store, so you can see our drapery panels and customization options. You can also follow us on Houzz and Pinterest for design inspiration. We think you'll find that when you compare your options, customizable drapes are the best choice every time.